China Bridge (神州橋樑)_2018/Jun
Baptisms at Easter in China
Young Chinese Catholics, newly baptised at Easter, explained that their faith in God changed their lives and their conversions impelled them to learn more about him and share this experience with others in their atheist and materialist societies.
Twenty-nine-year-old William, from Xi'an, said that religious instruction changed his outlook on life and values. "I can feel that God guides me along and comforts me when I am in difficulties. I have a clear understanding of my faith and received baptism," he said.
"People around me, mostly atheists, consider me somewhat a freak" since being a Christian believer in China "may bring trouble if I want to change my job in future," he said, "but I'm willing to devote my time to God and to the Church."
Also newly baptised, Martius, who is 28-years-old, said God helped him through a conversion in life, and cleansed his sins and weaknesses, as one easily gets corrupted in a materialistic society.
Even as new Catholics, William and Martius are aware of the ongoing China-Vatican dialogue. Neither expressed optimism about the relationship. The Holy See is facing an atheist authority, which uses every means, including religion, to achieve its goals, they said.
"I believe the Holy Father and bishops would have sufficient wisdom to discern the current situation and come up with the most favourable decisions on pastoral work in China," William said.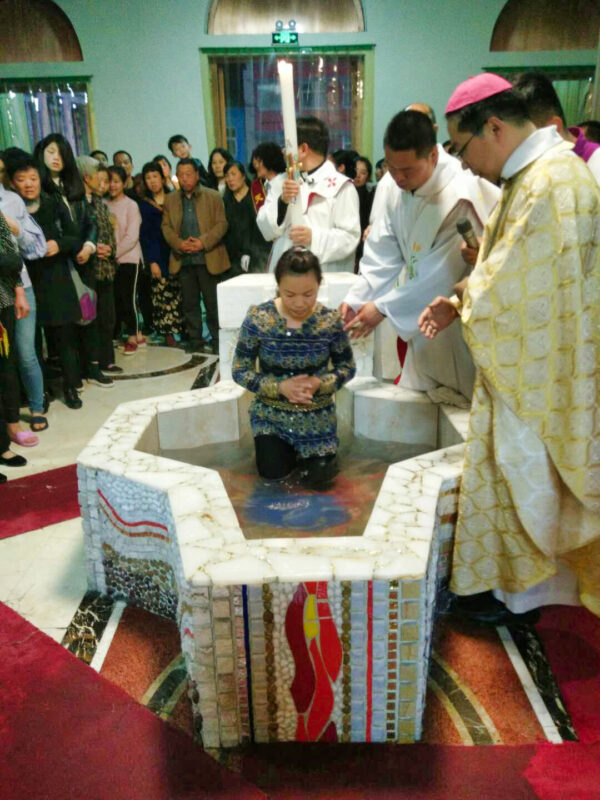 In an unofficial community in northern China, a young, 30-year-old worker, baptised in Easter 2017, recalled his road to baptism recount that he came to know about God through his fiancée. Before baptism, he found it a burden to get up early for Sunday Mass after working for an entire week. With the support of members of the parish, he learned more about God and the Church. "Through baptism, I know my life and my soul are saved. Having been a Catholic for a year, my life is joyful and meaningful," he said.
In a suburb of Heilongjiang, northeastern China, also in an unofficial community, the young people are few because they have gone to the cities to work or study. One young priest said that his parish had more than 20 adult baptisms at Easter – all middle-aged and elderly.
"Some lay leaders and I first visited the villagers door-to-door. We preached if they showed interest. Although these new Catholics did not undergo a systematic catechesis, they have learned the basic doctrine and have faith in God," the priest said.
On April 6, Xianxian (Cangzhou) diocese, Hebei province, published statistics on new baptisms at Easter on its website showing a total of 271 new members covering 18 parishes – ranging in age from two to 81 – have entered the Catholic family thanks to the efforts of parish priests, lay associations and catechists.
However, many dioceses and parishes have not released statistics. The collection of data in the China Church is always slow. Some Church leaders lack the awareness to keep systematic records, while others prefer not to disclose information because of political concerns.
In fact, baptisms are administered not only at Easter, but also at Christmas, at major Church festivals, before marriages or during winter breaks when people return to hometowns for Lunar New Year vacations.
Adult baptisms in China show that the traditional practice of passing the faith from one generation to the other and the focus on the countryside is gradually changing. More new Catholics are young people living in cities and towns who have taken catechesis for months or a year before baptism. Many have a clear understanding of their faith.
In early February, the Shijiazhuang-based Catholic Faith Cultural Institute, issued a report on baptisms in China for 2017, tallying up a total of 48,556 for the whole year.
The statistics were not complete and the number of baptisms was "relatively small," the report commented. All Church groups have to adopt a systematic catechesis for the catechumens and put in more efforts in evangelisation, it continued.
The report indicated that the highest numbers of baptisms were in Hebei, with 11,899 new Catholics, Sichuan came second, with 3,432, and Shaanxi third, with 3,254.
These provinces are inhabited by traditional Catholics who pass down their faith to their descendants. Henan, where reports say minors are now banned from entering churches, came fourth, with 3,032 baptisms.
Annie Lam