CHINA
Chinese Catholic-run charity pays tribute to Jean Vanier
Canadian man who inspired mainland agency that supports mentally handicapped people died in France on May 7 aged 90
ucanews.com reporter, Hong Kong
China
May 29, 2019
A Chinese charity called Huiling that supports people with mental disabilities paid tribute this month to Jean Vanier, the Canadian Catholic who inspired its creation, after he died in France on May 7 at the age of 90.
Huiling founder Meng Weinuo, a Chinese Catholic, said Vanier had recently been beset by health problems.
"He'd been in and out of hospital several times this year," she said. "We knew it was just a matter of time before he returned to his heavenly home."
The charity enjoys support from the Catholic Church. Meng set it up in the southern port city of Guangzhou in 1990 with Father Cagnin Fernando, a member of the Pontifical Institute for Foreign Missions (PIME).
Huiling gained a reputation as the first NGO to serve mentally disabled people in China during the 1980s. It now has 20 service points nationwide.
Meng said she was inspired by L'Arche, an international private voluntary organization that works for the creation of growth of homes, programs, and support networks for people with intellectual disabilities.
Vanier, a Catholic who was born in Canada but later migrated to France, founded L'Arche in 1964. He was also a co-founder in 1971 of Faith and Light, a similar organization.
Meng got to meet Varnier in France in May 2013 when she and Father Fernando visited a L'Arche community there.
"Huiling has always admired L'Arche. We really want to be an sister organization with you," she recalled telling the elderly Canadian.
Varnier welcomed the move but said he had stepped down from running the organization. He referred her to the head of L'Arche International.
Six months later, the two agencies signed a partnership deal. L'Arche agreed to provide training and spiritual support to Huiling.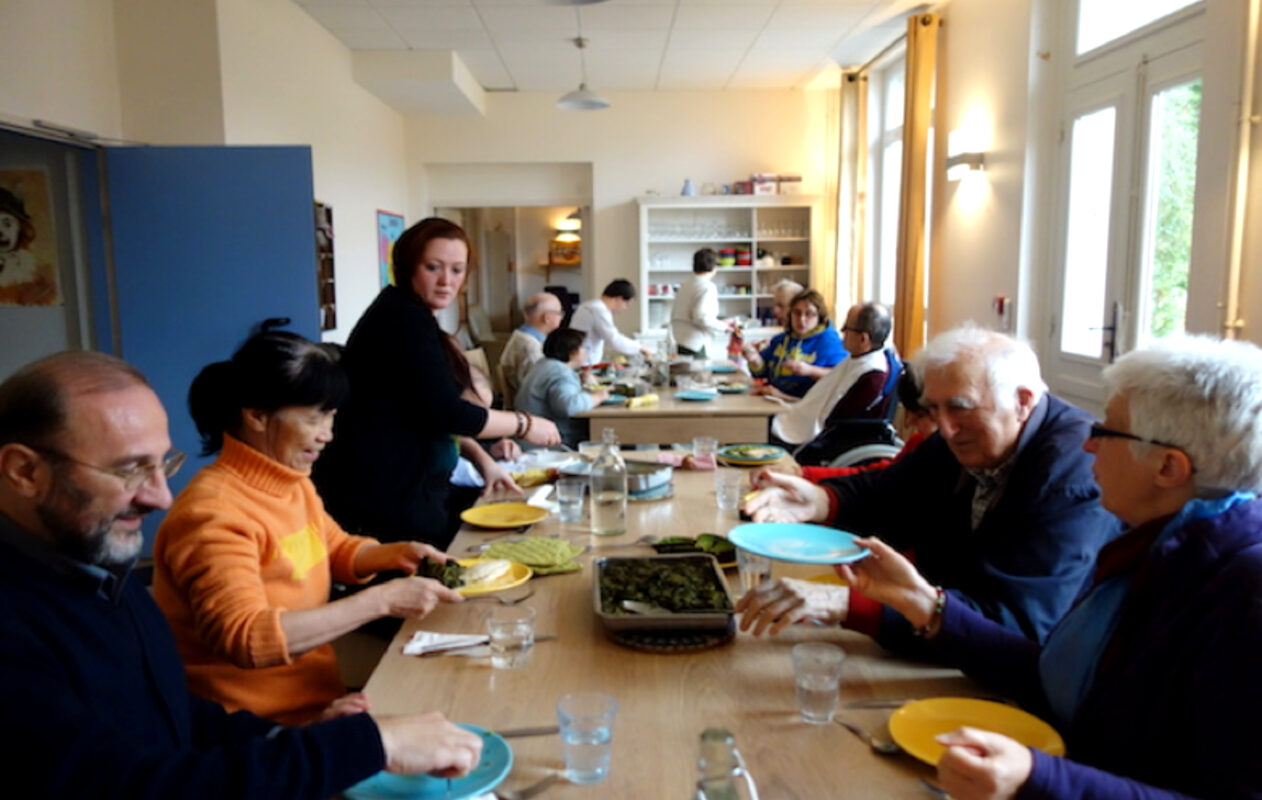 Teething problems
表單的頂端
表單的底部
In the early days, Huiling was supported by the Fu Hong Society, which was also tasked with caring for people with serious mental disabilities.
The society was founded by Father Giosue Bonzi, a PIME member who taught Meng lessons gleaned from the experience of working with L'Arche and Faith and Light.
"Father Bonzi did a lot to promote the Faith and Light movement in China. Some of our activities were inspired by that," Meng said.
In 1995, Father Fernando arrived. He helped improve the sanitary facilities at Huiling and taught staff about the importance of respecting the personal dignity of its wards.
"At first we were offended by some of his comments. We thought he was just a foreigner who didn't understand our ways," Meng said.
"Later, he suggested we swap our central headquarters for smaller, family-sized centers in local communities," she added.
"He also gave our staff what I would call 'people-oriented' training. After a while, I started to see the power of the values and practices espoused by L'Arche."
Father Fernando ended up working with Huiling for 22 years.
Meng said one of the gifts Varnier bestowed on the world was his writings. Many Catholic clerics in China have learned valuable lessons about the practical rendering of compassion by reading about his vision for L'Arche, she added.
"Another of his contributions was that he welcomed inter-religious dialogue, in addition to establishing the L'Arche family," she noted.